Corriere della Sera – Interview with the President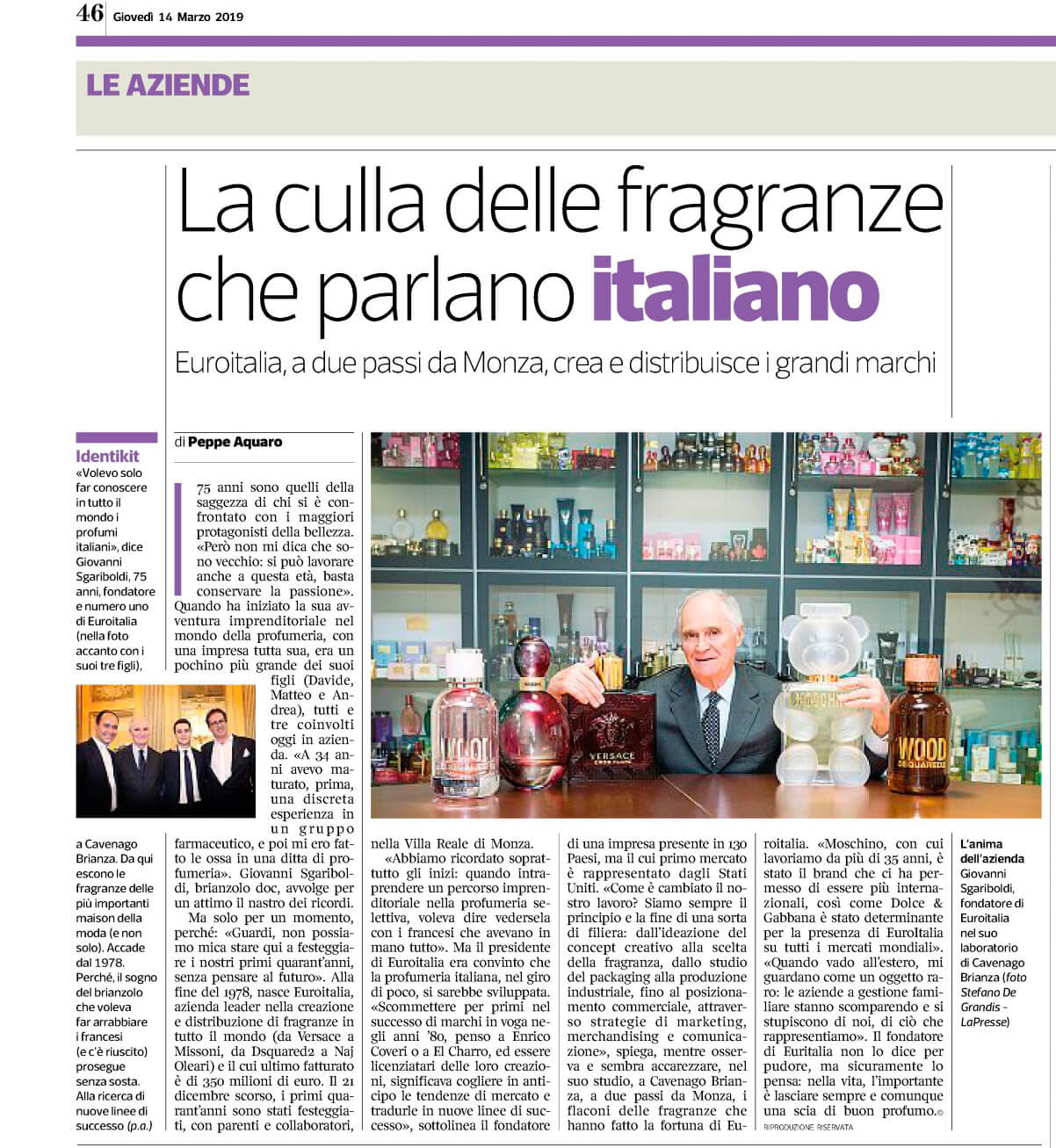 His age reveal the wisdom of a person who has dealt with the leading protagonists of the beauty industry. "However, don't tell me I'm old: you can work at this age, too. You just have to preserve your passion." When he set off on his entrepreneurial adventure and started his own company in the perfume industry, he was just slightly older than his sons (Davide, Matteo and Andrea) who are all involved in the company today.
"At age 34 I already had gained decent experience working for a pharmaceutical group, and then I expanded my knowledge when I was employed by a perfume manufacturer." Giovanni Sgariboldi, a real Brianza man, momentarily waxes nostalgic about the past, but just for a moment because, "Look, we can't sit here and celebrate our first forty years without thinking about the future." Euroitalia, the leading company in the creation and distribution of fragrances worldwide (from Versace, Moschino and Missoni to Dsquared2, Reporter and Naj Oleari) was established at the end in 1978 and its latest turnover is 350 million euros. Last December 21, the first forty years were celebrated with relatives and collaborators at Villa Reale of Monza.
"We mainly celebrated our beginning: when undertaking an entrepreneurial path in the perfume industry meant dealing with the French, who had control of everything." But the President of Euroitalia was convinced that the Italian perfume-making business would have developed in just a few years.
"Being the first to bet on the success of very popular brands in the 80s like Enrico Coveri or El Charro and being the licensees of their creations meant perceiving market trends in advance and translating them into successful new lines," underlines the founder of a company that is present in 130 countries, but its first market is the United States. "How has our work changed? We're always the start and conclusion of a sort of system: from the conception of the creative concept to the selection of the fragrance, from the study of packaging to industrial production and up to the commercial positioning through marketing, merchandising and communication strategies," he explains, sitting in his study in Cavenago Brianza close to Monza, while he observes and seems to caress the bottles of the fragrances that have made Euroitalia successful. "Moschino, with whom we have been working for over 35 years, was the brand that allowed us to be more international, and Dolce & Gabbana was fundamental for Euroitalia's presence on all world markets."
"When I go abroad, they look at me like a rare object: family-run businesses are disappearing and they are amazed by us and by what we represent." The founder of Euroitalia does not say it out loud for modesty's sake, but he certainly thinks it: in life, it is important to always leave the scent of a good fragrance in your wake."